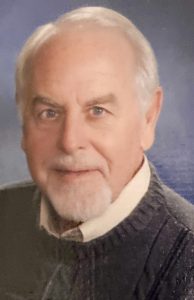 Clarence Raymond Goble, 78, of Lawrenceburg, Indiana, passed away on Thursday February 20, 2020.
He was born October 10, 1941 in Cincinnati, Ohio son of the late Leonard Goble and Elizabeth (Lang) Goble.
Ray worked as an Engineer for General Electric, retiring after over 41 years of service.
He was a long time member of St. John Lutheran Church, Aurora, where he also served as a Trustee.
Ray loved to hunt and fish. He enjoyed woodworking. He loved being outdoors, and he had an impeccable yard and garden. Weeds were his enemy. Ray loved spending time with his grandchildren and great-grandchildren and he will be greatly missed.
Ray is survived by his loving spouse of 24 years, Karen Goble (Singhoff), children, Terri (Mychal) Sheffield, Mike (Vicky) Goble, and Tracy Goble; grandchildren, Jessie (Nate) Frees, Ian (Katarzyna) Sisson, Valerie Goins, Jenna (Michael) Thompson, Vicky Goins, Vincent Goins, and Garrett Schultz; 16 great-grandchildren; sisters, Margaret (Ray) Bryant, Betty (Ronnie) Hyatt.
He was preceded in death by his parents, and a brother, Larry Goble.
Friends will be received Monday, February 24, 2020, 5:00 pm – 8:00 pm at the St. John Lutheran Church Aurora, 220 Mechanic St., Aurora, Indiana.
Services will be held at the church on Tuesday at 10:00 am with Pastor Ronald Stephens officiating.
Interment will follow in the Greendale Cemetery, Greendale, Indiana.
Contributions may be made to St. John Lutheran Church or Our Hospice of South Central Indiana. If unable to attend services, please call the funeral home office at (812) 926-1450 and we will notify the family of your donation with a card.
Visit: www.rullmans.com