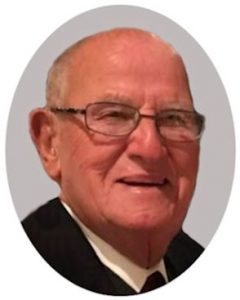 Paul B. Lecher, age 88 of Batesville, died Monday, February 17, 2020 at his home.  Born May 19, 1931 in Franklin County Indiana, he is the son of Anna (Nee: Schulte) and Peter Lecher.  He married Joan Schebler July 6, 1957 at St. Anne's Church in Hamburg, Indiana.  Paul served in the army during the Korean War and following the service would go to work for Batesville Casket Company, retiring in 1996 after42 years.  He was a member of the Ripley County V.F.W. Post #3183 and the Prell-Bland American Legion Post #271.
Paul was a simple and humble man.  He enjoyed being outdoors and was content to work in his garden or around the yard.  In his younger years, he liked to go squirrel and rabbit hunting.  Paul also enjoyed watching sports.  What he treasured most was being with his grandchildren.  He attended all their events and activities and would proudly join them for Grandparent's Day at school.
He is survived by his wife Joan; sons Ken (Dorothy) of Greensburg, Indiana, Rick (Carol) of Cincinnati, Ohio, Randy (Chris) of Bright, Indiana; sister Ida Nobbe of Batesville; brothers Ed of Greensburg, Jim of Batesville; ten grandchildren and four great grandchildren.  In addition to his parents, he is also preceded in death by his sister Frieda Nobbe and brothers Leo, George, Norbert, Bill, Joe, Harry and Herman.
Visitation is Thursday, February 20th, from 4 – 7 p.m. at the Weigel Funeral Home, with a rosary service at 4 p.m.  Funeral services are 10 a.m. Friday, February 21st at St. Louis Church.  Burial will follow in the church cemetery with military graveside rites conducted by the Ripley County V.F.W. and the Prell-Bland American Legion.  The family requests memorials to Margaret Mary Health Foundation Hospice or St. Jude's Children's Hospital Research.