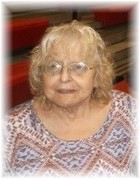 Darlene Ann Hock (nee: Granholm) of Napoleon, Indiana and formerly of Kalkaska, Michigan peacefully passed away on Saturday, February 15, 2020 at Arbor Grove Village in Greensburg.  She was 79 years old. The daughter of Martin and Florence (nee: Miller) Granholm was born on December 26, 1940 in Kaleva, Michigan.
Darlene graduated from St. Mary Catholic High School in Wayne, MI in 1958 and went onto receive her Nursing degree from Shapiro School of Nursing in 1960.  Darlene worked as a nurse for over 30 years before retiring from Annapolis Hospital in Wayne, MI.  She was a member of St. Mary Catholic Church in Wayne, MI.  One of Darlene's favorite hobbies was knitting.  She loved to knit afghans especially and give them away to those in need or to her family as well.  As the stories go, she could never have enough yarn.    Watching old movies like the ones on Turner Classic Movies were a favorite past time of hers.  Darlene was also a huge Elvis fan and enjoyed listening to his music always.  Most of all Darlene will be remembered as a loving wife, mother, sister, aunt, grandmother and great grandmother.
She will be dearly missed by her daughter, Tracy (nee: Boyce) Roe (Bruce) of Napoleon, IN; granddaughter Chelsea Moore (Scott) of Rushville, IN and grandson, Joshua Roe of Napoleon; two great grandchildren Skye and Raine, with one on the way; her sisters, Carol Goachee (the late Thomas) and Linda Haag (Tony); along with her nieces and nephews, Thomas Goachee II (Darlene), Kerrie Fine (Steve), Anthony Haag (Nancy) and Eric Haag (Shannon).
In addition to her parents, she was preceded in death by her husband, Donald Hock and infant brother Martin Granholm.
Visitation will be Thursday, February 20, 2020 from 6pm until time of the funeral service at 7pm all at Meyers Funeral Home in Batesville.  Pastor Paul Wenning officiating.  Burial will be held at Maple Grove Cemetery in Kaleva, MI later in the spring.
In lieu of flowers, memorials may be given to the funeral home or Tracy and Bruce Roe to help with funeral expenses.  Online condolences www.meyersfuneralhomes.com.