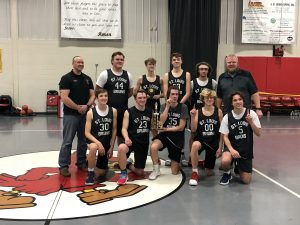 St. Louis #1 won against All Saints #1 by a score of 51-45 to capture The 2020 Batesville Area CYO Deanery Crown.
It was a hard-fought game. All Saints #1 lead for most of the game with a score of 26-23 going into half time. at the end of the third quarter, it was 42-38 All Saints. At the start of the 4th quarter St. Louis scored 2 quick buckets and took the lead. they didn't give up the lead the rest of the game. It was a great effort by St. Louis who really struggled at times shooting the ball, but with great defense and effort they never gave up. They only allowed 4 points in the 4 quarter.
Leading the way for St. Louis was Seth Gausman with 18, John Thompson with 15, and Adam Cox with 13. Leading the way for All Saints was Landon Weis with 13, Luke Hornbach with 9, and JJ Stenger and Griffin Werner with 8.
Like to Thank all parents, coaches, players, and officials that have helped make this year a great year.
At the end of the year, coaches vote on a The All Deanery Team and an MVP.
Courtesy of Bruins Coach Fuzz Springmeyer.
2019-2020 All Deanery Team

1st Team

Josh Hudepohl (All Saints #2)

Cade Reynolds (St. Mary's#1)

Kurt Siefert (St. Louis #2)

Cooper Day (St. Mikes)

(MVP) Seth Gausman (St Louis)

2nd Team

Isaac Tebbe (St. Mary's 1)

Griffin Werner (All Saints #1)

Evan Vogelsang (St. Louis #1)

Shane Meer (Holy Family)

Connor Topps (St. Maurice)

3rd Team

John Thompson St. Louis #1

Hank Nobbe Holy Family

Brayden Laudick St.Mary's #2

JJ Stenger All Saints #1

Caden Workman St. Mary's #2