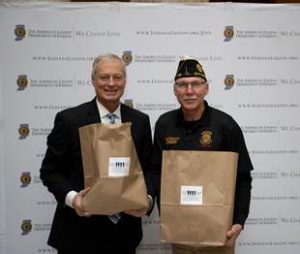 Statehouse—In 2019, Indiana saw its homeless veteran population increase by 6%. The American Legion, Department of Indiana can help these courageous servicemen and women in need.
In Indiana, there are dozens of American Legion posts ready to help, regardless of the veteran is a Legion member or not. The Legion advocates for all veterans and their well-being, while also providing expert advice and support regarding benefits, job searches, medical care, and treatment programs. This care can be life-changing for our brave men and women suffering from addiction or post-traumatic stress disorder.
The Indiana House of Representatives joined forces with the Legion over the last several weeks highlighting the financial, emotional and spiritual support services the American Legion offers to help reduce the growing problem that is veteran homelessness.
One out of every 10 people experiencing homelessness is a veteran. To help, House lawmakers collected more than 7,000 food and essential hygiene products and assembled care packages to help more than 500 homeless Hoosier veterans. Allen Connelly, commander of the Indiana Legion, Representative Randy Frye, along with several other members of the Indiana House and several others took part in an event recently to create care packages for the homeless Veterans.
The Legion will distribute these packages to veterans in need across the state.