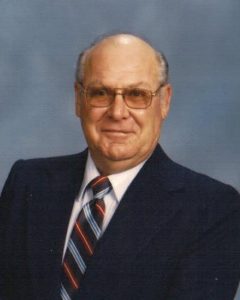 Paul O. Ricke, 96, passed away on Friday, February 14, 2020 at Heritage House Nursing Home in Greensburg.
Born, December 13, 1923 in Greensburg, he was the son of Leo and Luella (Buell) Ricke.
Paul served in the Navy during WWII from 1941 – 1943.  He worked on the Railroad, was the Auditor for the State of Indiana, and was the Superintendent for the Sewage Treatment Plant in Greensburg, Indiana and Cynthiana, Kentucky.
Paul was a member of St. Mary's Catholic Church, the American Legion, Knights of Columbus, V.F.W., and the Eagles Lodge.
He married Jo Ann Clark on June 21, 1944 and she preceded him in death on July 31, 1993.
Paul is survived by six daughters; Carolyn Hoskins, Colorado Springs, CO, Marge (Dennis) Weber, Greensburg, Paula (Tom) Welsh, Christiansburg, VA, Jonita (Jerry) Hickam, Bloomington, IN, Rita (Mike) Menkedick, Greensburg, Jackie (Bryan) Ramer, Harrisburg, NC, one sister; Mary Overman, Sarasota, FL, 20 grandchildren, and several great and great-great grandchildren.
Paul was preceded in death by his parents; Leo and Luella Ricke, wife; Jo Ann Ricke, two sons; Larry Ricke and John Ricke, seven brothers; John, Maurice, Howard, Eugene, Robert, William, and Steve Ricke, and four sisters; Betty King, Lois Ralston, Deloris Robbins, and Marilyn Einhaus, and grandson; Jason Ricke.
Family and friends will gather at 9:45 am on Wednesday, February 19, 2020 for a Rosary Service at St. Mary's Catholic Church.  Visitation will be from 10-11 am at the church on Wednesday followed by a funeral mass at 11:00 am with Rev. John Meyer officiating.
Burial and military graveside rites will follow at St. Mary's Cemetery.
In lieu of flowers, memorials may be made to St. Mary's Catholic Church.
Online condolences can be made to the family at www.popfuneralhome.com