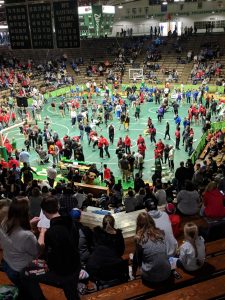 Congratulations to East Central Trojan Wrestlers Bryer Hall (152) and Kole Viel (182) and Lawrenceburg Tiger Andrew Roth (160) on punching their ticket to The Wrestling State Finals on their outstanding performances at The Semi-States at New Castle. The State Finals will be on Friday and Saturday, February 21st and 22nd at Bankers Life Fieldhouse in Indianapolis.
The BHS wrestling ended their season on Saturday when they traveled to Newcastle to compete at semi-state.
Senior JT Linkel wrestled at 145. Despite losing his first-round match Linkel secured a takedown early in the match against the #1 145 in the state. With JT loss, his record ends at 36-9. Along the way, JT broke the season pin record setting it at 29. He also broke the career pin record-setting that at 87. Linkel finished his career with 108 putting him tied 5th all-time in career wins despite missing the end of his junior year.
Sophomore Josh Mobley was able to pick up a pin in the opening round at 152. Despite trailing most of the match he dug deep and was able to secure a win. Josh dropped his next match with a heartbreaking loss in the ticket round just one match away from qualifying for State. Mobley finished his season with a 37-8 record. The 37 wins are the highest total in school history for a sophomore. Mobley also became the 2nd bulldog to reach 80 takedowns in a season after racking up 84 takedowns. Both wrestlers win totals put them in the top 10 in season wins.
Courtesy of Bulldogs Coach Curtis Miller.
Photo courtesy of EC Trojan Athletics.