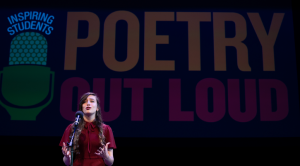 Indianapolis, IN—The Indiana Arts Commission (IAC) and the Indiana State Library (ISL) announced today that students representing 14 high schools from all regions of the state will compete on February 15 in the Poetry Out Loud Indiana State Finals.
Locally, students taking part in the 2020 Poetry Out Loud State Finals include Claire Berry representing Lawrenceburg High School and Piper Parks representing Columbus Signature New Tech High School.
The poetry recitation contest will begin at 9:30 a.m. (EST) at the Indiana State Library, 315 W. Ohio Street, Indianapolis, Indiana.
The state champion receives a $200 cash prize and an all-expenses-paid trip to Washington, D.C. to compete in the Poetry Out Loud National Finals in April. The state champion's school receives a $500 stipend to purchase poetry books.
Poetry Out Loud is a national arts education program that encourages the study of great poetry by offering free educational materials and a dynamic recitation competition to high schools across the country. This program helps students master public speaking skills, build self-confidence, and learn about literary history and contemporary life. Poetry Out Loud is a partnership of the National Endowment for the Arts, Poetry Foundation, Indiana Arts Commission, and Indiana State Library.