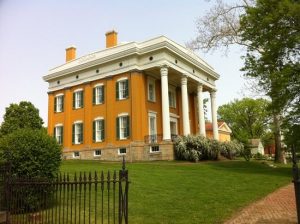 Statewide—Celebrate Presidents' Day by escaping back in time. Indiana's story stretches well into history, with significant events happening before statehood was granted in 1816. With Visit Indiana's fifth list of The 20 IN 20 featuring historic sites, visitors can experience the people and places of the past firsthand.
"Indiana boasts a surprisingly rich history. Three presidents and six vice presidents have called Indiana home or have Indiana ties," Lt. Governor Crouch said. "Our great state is also home to two national memorials, 11 state historic sites and hundreds of landmarks and significant homes."
The Lincoln Boyhood National Memorial was voted as Indiana's Best Historic Destination in 2017. Indiana is where Abraham Lincoln spent the formative years of his life before becoming our 16th president. At the memorial in Lincoln City, you can walk in Lincoln's footsteps on the Trail of Twelve Stones. The trail begins at the Lincoln Living Historical Farm and ends near Pioneer Cemetery where Lincoln's mother is buried. You can also spend time at the Memorial Visitor Center, which features five sculptured panels, marking significant periods in Lincoln's life.
The Indiana State Museum and Historic Sites have 12 locations around the state, offering something for every interest, including gardens and nature to explore, gorgeous mansions, a stop on the Underground Railroad and more.
"Visitors from all 50 states come to the Indiana State Museum each year," said Misty Weisensteiner, director of Indiana Office of Tourism Development. "At the historic sites, enjoy the grounds and tour the sites for free on February 17 in honor of the holiday."
The Indiana State Museum is also free to visitors.
Currently open historic sites around the state include Angel Mounds State Historic Site in Evansville, Corydon Capitol State Historic Site in Corydon, Culbertson Mansion State Historic Site in New Albany, Lanier Mansion State Historic Site in Madison, Levi and Catharine Coffin State Historic Site in Fountain City, Limberlost State Historic Site in Geneva, T.C. Steele State Historic Site in Nashville and Vincennes State Historic Sites in Vincennes.