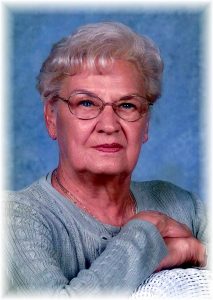 Carol Jean Maple, age 89 of Batesville, Indiana passed away at St. Andrews Health Campus on Thursday, February 13, 2020.  The daughter of Edwin and Lillie (nee: Thie) Schone was born on July 28, 1930 in Batesville. She married Roger Maple on January 10, 1948 at St. Johns UCC (Huntersville).
The 1948 Batesville High School graduate was very active throughout her life raising her children, working and volunteering in town.  Carol worked for Hill-Rom as an interior designer for many years, before starting her own business, "Carol Maple Interiors". More recently she enjoyed working for Goodys before she retired.
Carol liked serving her church.  She was a Sunday school teacher for many years and part of the Loyal Workers at St. John's UCC.  She also sang in the church choir, the Easter Ecumenical Choir and played in the hand bell choir.  She was a member of the Batesville Order of the Eastern Star Chapter #348, Batesville VFW Post #3183 Ladies Auxiliary and a member of St. John's UCC.  Many times Carol could be found tending to her flowers in her gardens or often playing the organ or piano.  Most often though, Carol loved spending her time with her family and friends.
She will be dearly missed by her daughters Diana Schantz (Tony), Becky Schutte (Roger) and Kathie Pohlman (Tim); son, Douglas John Maple (Cindy); 8 grandchildren, Tony, Elizabeth, Rebecca, Wendy, Jonathan, Jessica, Joshua, Nathan; 14 great grandchildren and one great-great granddaughter; along with her sister, Marilyn Sitterding (Richard).
In addition to her parents and husband, Roger, she was preceded in death by her brother John Schone, sister, Margaret Schone and sister-in-law Pauline Schone.
Visitation will be Monday, February 17th from 4-7pm at Meyers Funeral Home in Batesville.  Funeral Services will be 11:00am on Tuesday, February 18, 2020 at St. John United Church of Christ, Batesville. Rev. Joey Feldmann officiating.  Burial will follow in the St. John UCC Cemetery.
Memorials may be given to St. Jude's Hospital for Children or St. John UCC School House Fund.  Online condolences www.meyersfuneralhomes.com.