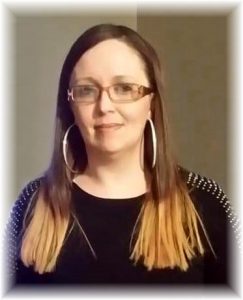 Charlotte Faith McRoberts, 37, passed away on February 11, 2020 at Community Hospital East in Indianapolis.  Charlotte was born on March 10, 1982 in Lawrenceburg, Indiana.  She grew up in the Moores Hill area but had recently been living in Indianapolis.
She is survived by her parents, Thomas Clayton Wilson (Vicki) and Yvonne Schrock (Terry); five children, Bailey, Brayden, Bentley, Natasha and Myrical; sister, Angela Hanson; brothers, Matthew Johnson (Monica) and Travis Wilson (Eryn); step-sisters, Stephanie Muecke (Nathan) and Jenna Homola (Nathan); step-brothers, Andy Schrock (Brittany) and Jeff Cornett (Aimee) along with many nieces and nephews that loved her very much.
Charlotte had a huge heart, and was always willing to help others, especially those who didn't have much.  She loved finding a good bargain.  She liked wearing bright colors and anything with bling-bling or sparkle.  Charlotte enjoyed spending time with family every chance she had, and especially looked forward to time spent with her children.  She will be greatly missed.
Visitation will be Saturday, February 15, 2020 from 11am – 1pm immediately followed by a 1:00pm memorial service all at Dearborn Baptist Church, 9638 St. Rd. 48, Aurora, IN 47001 (Manchester).  Pastor Darrell Sparks and Rev. Bob McCreary officiating.
Meyers Funeral Home is assisting the family. Online condolences www.meyersfuneralhomes.com.