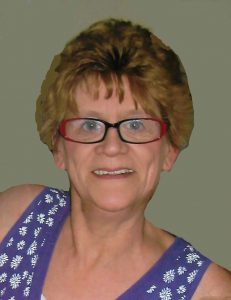 Deborah Ann Siekman, 63, of Aurora, Indiana, passed away Sunday February 9, 2020 in Edgewood, Kentucky.
She was born June 22, 1956 in Sullivan, IN, daughter of the late Lawrence Tedrow and Dovie (Arvin) Tedrow.
Deborah worked as a hostess for Aurora Tree House, and as a bartender and cook for the Hidden Valley Golf Club.
Debbie graduated from Benton Central High School in Boswell, Indiana in 1974. She loved working around people, her favorite job being at the Hidden Valley Golf Club. She enjoyed being with her grandchildren, watching her grandson race go karts, and gardening. Debbie lover her dog Brutus, who she made sure always got treats and extra snacks, and most recently a kitten she named Fluffy.
Deborah is survived by Douglas L. Trester of Aurora, IN; son, Chad (Cindy) Siekman of Cincinnati, OH; brother, Larry Tedrow of Terre Haute, IN; grandchildren, Conner Matthew Siekman, and Chloe Marie Siekman, both of Cincinnati, Ohio; and several nieces and nephew.
She was preceded in death by her parents, Lawrence and Dovie; brother, Ronald Tedrow and niece, Elizabeth Tedrow.
Friends will be received Thursday, February 13, 2020, 5:00 pm – 8:00 pm at the Rullman Hunger Funeral Home, 219 Mechanic Street, Aurora, Indiana.
Services will be held at the funeral home on Friday at 12:00 pm with Pastor Scott Davis officiating.
Interment will follow in the River View Cemetery, Aurora, Indiana.
Contributions may be made to PAWS or the Dearborn County Clearinghouse (food pantry). If unable to attend services, please call the funeral home office at (812) 926-1450 and we will notify the family of your donation with a card.
Visit: www.rullmans.com