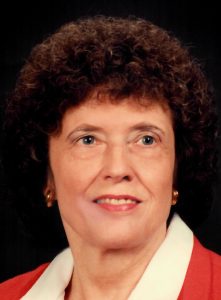 Elizabeth "Betty" Rose Shadday, 91, of Dillsboro passed away Thursday, February 6, 2020 at her residence.  Betty was born Wednesday, February 6, 1929 in Dillsboro, Indiana, the daughter of the late James and Norma (Leive) Heitmeyer.  Betty was a member of Trinity Lutheran Church in Dillsboro. She worked for the State of Indiana in the state veterinary office.  She enjoyed traveling with friends, reading and shopping.
Betty is survived by sister in-law Verna Heitmeyer of Dillsboro; nephews: David (Sandy) Heitmeyer of Cleves, OH and Timothy "Tim" (Debra) Heitmeyer of Dillsboro; great nephews: Davin (Barbara) Heitmeyer of Houston, TX and Kristopher (Kayla) Heitmeyer of Bright, IN; great niece Kristina Heitmeyer of Dillsboro; and great-great nephew  Collin Heitmeyer of Bright, IN.  She was preceded in death by her parents; father of their children Raymond Shadday; daughter Linda K. Shadday; son Michael Allen Shadday; and brother Robert Heitmeyer.
A service celebrating her life will be held 2 PM Sunday, February 9 at Trinity Lutheran Church, 9901 Central Ave., Dillsboro, IN 47018, with Rev. Richard Kolaskey officiating.  Burial will follow in Oakdale Cemetery.  Family and friends may gather to share and remember her 1 – 2 PM also at the church.  Memorials may be given in honor of Betty to Trinity Lutheran Church.  Filter-DeVries-Moore Funeral Home entrusted with arrangements, Box 146, Dillsboro, IN 47018, (812)432-5480.  You may go to www.filterdevriesmoore.com to leave an online condolence message for the family.