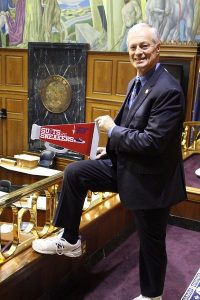 Statehouse—This year alone, more than 37,000 Hoosiers will be diagnosed with cancer, with over 13,000 dying from the disease. Many of us are personally impacted by cancer and are all too familiar with the devastation it causes. Thankfully, the American Cancer Society is reporting a steady decline in the cancer death rate. By educating ourselves about cancer prevention, screening, and early detection, more lives can be saved.
To help kick off National Cancer Prevention Month in February, Both Representatives Randy Frye and Randy Lyness along with many others participated in the Suits and Sneakers Challenge at the Statehouse and paired their favorite tennis shoes with their suits during the legislative session. This year, the nationwide initiative centers on childhood cancer research, services, and awareness.
The American Cancer Society provides many ways to get involved in the fight against cancer. Whether it's volunteering, making a donation or participating in a fundraising event, there are ways we can all help. To learn more about cancer prevention, recommended screenings and support after diagnosis, visit cancer.org today.