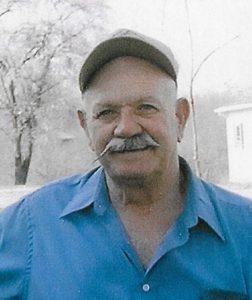 Oka Edward "Jr" Tice Jr., 86, of Guilford, Indiana, passed away Sunday February 2, 2020 in Lawrenceburg, Indiana.
He was born October 7, 1933 in Aurora, IN, son of the late Oka Edward Tice Sr. and Nettie (Bills) Tice.
He served his country as a member of the United States Army.
Jr. worked as a concrete worker and Supervisor for Tru-Wall Construction for over 50 years.
Jr. enjoyed the outdoors. He liked to pass the time fishing. He enjoyed feeding, and watching birds. Jr. also enjoyed working in the yard, and liked to tinker with lawnmowers. Jr. was a whistler, he whistled all the time. Most important to Jr. was his family.
Jr. is survived by his loving wife of 59 years, Mary (Garrison) Tice , daughters, Karen (Robert) Powell of Guilford, IN, Beverly Cottingham of Aurora, IN; grandchildren, Melissa Edwards, Kelly (John) Hill, Shawn Loar, Jeffery (Elizabeth) Cottingham, Matthew (Molly) Cottingham; great-grandchildren, Courtney (Chris) Carson, Kayla Edwards, Cadence Cottingham, Dezi Cottingham, Xavier Cottingham; great-great grandchildren, Kyler Edwards, Holden Anderson and Elyse Carson; 9 fur babies, but especially his beloved dog, Darby.
He was preceded in death by his parents and several siblings.
Friends will be received Wednesday, February 5, 2020, 11:00 am – 2:00 pm at the Rullman Hunger Funeral Home, 219 Mechanic Street, Aurora, Indiana.
Services will be held at the funeral home at 2:00 pm with Pastor Charles Hill officiating.
Interment will follow in the Wilmington Cemetery, Aurora, Indiana. Military graveside services will be conducted by members of local Veterans Service Organizations.
Contributions may be made to SEI Honor Guard or Honor Flight Tri-State.  If unable to attend services, please call the funeral home office at (812) 926-1450 and we will notify the family of your donation with a card.
Visit: www.rullmans.com