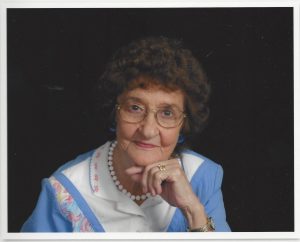 Elsie Mary Gaebel Milton, age 93 of Blue Jay, USA passed away at her home Saturday, February 1, 2020. Born June 17, 1926 in Miamitown, Ohio the daughter of William Alonzo and Elsie (Fehlmann) Bunnell.
Elsie a 1944 Miamitown High School graduate married Kenneth E. Milton January 21, 1977 in Miamitown, Ohio. Member of Miamitown Church of Christ.
Elsie is survived by her husband Kenneth Milton, mother of Elsie "Sissy" Marie Gaebel and mother in law of Luana Gaebel. Grandmother of Joyce (Brian Vaske) Wheeler, Tobias Wheeler, Heather Gaebel, Melissa (Jerry) Burns, Judi Borne and Nick Borne. Great grandmother of Joshua (Lindsay) Quinlan, Katilyn Quinlan, Harrison Gaebel, Patrick Burns, Mary Burns, Michael Steven Mauch, Cassandra Vaske, Brian Joseph Vaske Jr., Kayli Borne, Allison Borne, Logan Borne and Bryan Johnson. Great great grandmother of many. Sister of James "Jim" Bunnell. Sister in law of Eleanor Bunnell.
Preceded in death by her parents William and Elsie Bunnell, husband Harold Gaebel, son Harold "Butch" Gaebel Jr., granddaughter Holly Borne, brother William Bunnell, sister Ivy Cormican Zix and brother in law Russell Cormican.
Visitation will be held Thursday, February 6, 2020 from 11:30 A.M. until time of funeral service at 1:00 P.M. with Pastor Virgil Farringer officiating all at Jackman Hensley Funeral Home 215 Broadway Street Harrison, Ohio 45030. Burial will follow at Miamitown Cemetery.
Memorials may be directed to Hospice of Cincinnati Bethesda c/o the funeral home.