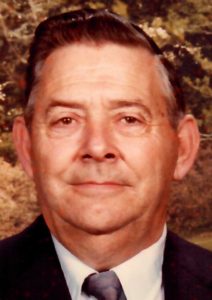 Stanley T. Vickroy, 94, of Dillsboro passed away Thursday, January 30, 2020 at his residence.  Stanley was born Monday, August 3, 1925 in Pendleton County, Kentucky, the son of the late William and Lula (Gillespie) Vickroy.  He married Charlotte White June 27, 1947 and she preceded him in death November 21, 2019.  Stanley was a former member of Dillsboro United Methodist Church and served his country in the U.S. Army during World War II.  He worked at the power plant in the maintenance department and was plant director.  He was mechanical minded and enjoyed fixing anything and other people's stuff; operated machines; was a welder; loved to farm; and retired from Dearborn County Hospital.  He loved spending time with his children and late wife of 72 years.
Stanley is survived by sons Thomas "Tom" (Helen) Vickroy of Moores Hill and Robert (Mona) Vickroy of Ponce de Leon, Florida; sisters: Mildred Dryden, Barbara Ann Johnson and Joyce Gayle Hawk; grandson Christopher Vickroy and Megan of Valley Center, Kansas; granddaughter Candice Flinner and Justin of Destin, Florida; and great grandson Wyatt Vickroy of Valley Center, Kansas.  He was preceded in death by his parents; wife Charlotte; brothers and sisters: Burgess Vickroy, Marie Vickroy, Oblee (Haas) Vickroy, Chester Vickroy, Juanita (Buttons) Kocher, and Ray Vickroy.
There are no services planned at this time.  Memorials may be given in honor of Stanley to the donor's choice.  Filter-DeVries-Moore Funeral Home entrusted with arrangements, Box 146, Dillsboro, IN 47018, (812)432-5480.  You may go to www.filterdevriesmoore.com to leave an online condolence message for the family.