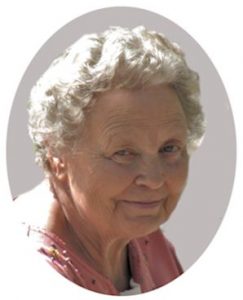 Janet M. Meyer, age 76 of Batesville, died Friday, January 31, 2020 at Margaret Mary Health.  Born April 18, 1943 in Batesville, she is the daughter of Cleona (Nee: Holtel) and William Barnhorst.  She married Dennis Meyer April 11, 1964 at St. Louis Church.  She was a homemaker and a member of St. Louis Church.
A natural care giver, Janet did quite a bit of baby sitting through the years before the advent of day care.  She liked to travel.  A favorite trip was an Alaskan cruise she and Dennis took.  Janet also loved camping with her family and those trips were usually somewhere out west.  Hobbies she enjoyed included cards, jigsaw puzzles and word searches.  Her grandchildren were her pride and joy.
She is survived by her husband Dennis; daughters Tricia (Mike) Kane of Batesville, Barb Meyer of Littleton, Colorado; sons Bryan (Angie) Meyer of Batesville, Robert (Stephanie) Meyer of Simpsonville, South Carolina, Randal (Wendy) Meyer of Batesville, Mark Meyer and his girl friend Angie Kersey of Batesville; brothers Bill Barnhorst of Comfort, Texas, Bob Barnhorst of Brighton, Colorado; granddaughters Bailey, Lindsey, Lily and Leah Meyer, Dylan Fennimore and grandsons Brady, Patrick and John Meyer.
Visitation is Monday, February 3rd, from 4 – 7 p.m. at the Weigel Funeral Home.  Funeral services are 10 a.m. Tuesday, February 4th at St. Louis Church followed by burial in the church cemetery.  The family requests memorials to the Phi Beta Psi Sorority Cancer Research.