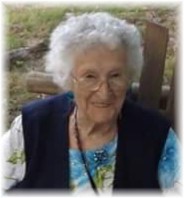 Doris "Toodie" Mae Foley of Batesville, Indiana passed away on Thursday, January 30, 2020 at Margaret Mary Health. She was 94 years old.  Born on June 27, 1925 in Indianapolis, she was the daughter of Lewis and Dorothy (nee: Hill) Laker. The 1944 New Point High School graduate was married to Paul Foley until he passed away in November 1977.
Toodie, as she was known to most of her friends and family, was a member of Holy Family Church. She liked to shop the yard sales and play bingo.  Her family spoke highly of her good cooking and she enjoyed making their favorites.  Most of all she loved spending time with her family, especially her many grandchildren.
She is survived by her daughter, Glenda (John) Riehle; 3 sons, Steven Foley, Tim Foley and Rick Foley; daughter-in-law, Tina Foley; 7 grandchildren, Jason Foley, Shawn Riehle, BJ Foley, Max Foley, Melissa Franklin, Paul Foley and Geannie Foley; 11 great-grandchildren, Kyle Riehle, Ryan Riehle, Sarah Riehle-Marquette, Nick Riehle, Savana Foley, Liam Foley, Preston Franklin, Payton Franklin, Presley Franklin, Piper Franklin and Isabelle Foley; 2 great-great grandchildren, Madilyn Riehle and Greyson Riehle; along with her sister, Betty Reichel.
In addition to her parents and husband, Paul, she was preceded in death by her son Pat Foley.
Visitation will be Tuesday, February 4, 2020 from 9-11am with Mass of Christian Burial immediately following, all at Holy Family Church in Oldenburg, IN.  Burial will be in Holy Family Cemetery. Fr. Carl Langenderfer officiating.
Memorials may be given to Margaret Mary Health Foundation Hospice c/o the funeral home.   Meyers Funeral Home assisting the family.  Online condolences www.meyersfuneralhomes.com