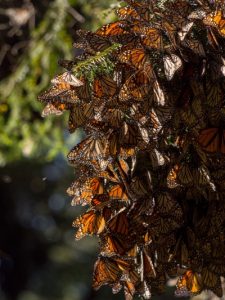 Hanover, IN—Hanover College Environmental Stewardship committee, in partnership with Big Oaks National Wildlife Refuge will screen the documentary film The Guardians on February 12 at 7:00 PM in Classic Hall, room 102. The Jefferson County Pollinator Action Group, Oak Heritage Conservancy, and the Pollinator Partnership also support this event.
The event is open to the public. A visually dazzling meditation on the balance between humans and nature, The Guardians poetically interweaves the lives of the threatened monarch butterfly with an indigenous community fighting to restore the forest they nearly destroyed. Migrating 3,000 miles to hibernate in towering sacred firs, the monarch population faces collapse. In the valley below, the people of Donaciano Ojeda struggle to support their families in their ancestral lands now part of the protected Monarch Butterfly Biosphere Reserve. Santos, a charismatic avocado farmer and Aristeo, a philosophical tree caretaker are the storytellers of the community as they confront internal divisions, illegal loggers and their own mortality. When the directors started filming The Guardians in 2014, the monarch population hit an all-time record low of 33 million, down from 1 billion just twenty years prior.
Shot over three years, this cinematic journey through the butterfly dense mountaintops of Michoacan tells an intimate story of a unique community at the front lines of conservation.