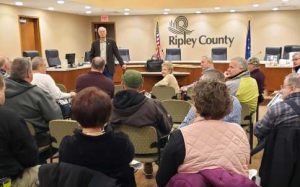 Versailles, IN—Three Town Hall meetings were held over the weekend in Versailles, Dillsboro, and Vevay. Both Representative Randy Frye and Sen Chip Perfect were in attendance in Versailles and Dillsboro to speak with constituents on issues as well as discuss the current legislative session
Rep. Frye stated that all three meetings were well attended and he felt it was a great conversation with each community about issues. He said concerns ranged from 2nd amendment rights, teacher pay and funding, as well as the new federal 21-year-old tobacco law.
Both Frye and perfect will be in attendance this Saturday at 8 am at the Decatur County REMC for a town hall hosted by the Greensburg Decatur County Chamber. They will be joined by Representative. Cindy Ziemke and Sen. Jean Leising.