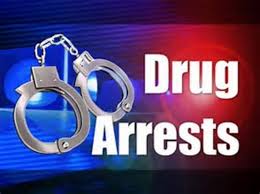 Greensburg, IN—Recently an officer with the Greensburg Police Department attempted to initiate a traffic stop on a vehicle that had committed a traffic violation in his presence. As the vehicle came to a stop in the area of Third and Home Street, the driver who was later identified as Jeremy Lucas, 44, of Greensburg, exited the vehicle and began to flee from the stop.
The officer advised other officers of the description of Lucas, while the original officer stayed with the vehicle and the other occupants. During this time, one of the occupants of the vehicle, Amanda Ponsler, 40, of Greensburg, had moved into the driver's seat of the vehicle.
As the original officer was dealing with the occupants, a Decatur County Sheriff's Deputy arrived in the area and had located Lucas was then taken into custody.
As officers continued to investigate the incident, they allege narcotics and paraphernalia were located inside the vehicle. After the investigation was completed Lucas and Ponsler were taken into custody and transported to the Decatur County Jail.
Jeremy L. Lucas was charged with allegations of Possession of Methamphetamine, Resisting Law Enforcement, Possession of Paraphernalia, and an arrest warrant.
Amanda M. Ponsler was charged on allegations of Possession of Methamphetamine and Possession of Paraphernalia.