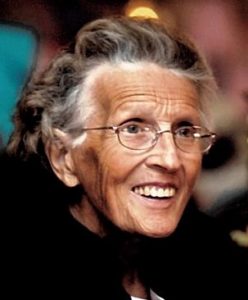 Lucy A. Smith Dorrel, of Brookville was born on March 25, 1924 in Springfield Township, a daughter to Milton and Mattie Shiplet Smith.  She married Herbert Dorrel and he preceded her in death on May 19, 1977.  She served for many years as a 4-H leader and loved gardening, sewing, and cheering for the I.U. basketball team.  On Sunday, January 26, 2020 at the young age of 95, she passed away at her residence surrounded by family.
Those surviving who will cherish Lucy's memory include her son, Daniel (Arlene ) Dorrel, and daughter, Sara Jane Dorrel, both of Brookville; grandchildren, Angie (Dave) Kroll, Jodi (Dave) Amrhein, and Denny (Sarah) Dorrel; seven great-grandchildren, Howie and Joey Kroll, Eli and Ella Amrhein, and Kate, Dexter and Dylan Dorrel, and many nieces and nephews.  Besides her husband, she was preceded in death by a son, Dwane.
Friends may visit with the family on Thursday, January 30, 2020 from 4 until 7 p.m. at Cook Rosenberger Funeral Home, 929 Main Street, Brookville.  Services, officiated by Pastor Steve Rundel will begin at 10:30 a.m. on Friday at Whitcomb United Methodist Church and burial will follow in Big Cedar Cemetery.
Memorial donations can be directed to Big Cedar Cemetery.  To sign the online guestbook or to leave a personal memory, please visit www.cookrosenberger.com.  The staff of Cook Rosenberger is honored to care for the family of Lucy Dorrel.