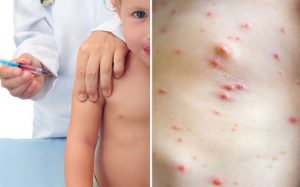 Versailles, IN— An area school has chosen to close due to four students reporting they have chickenpox, or varicella. Exercising an abundance of caution to keep students and staff healthy, St. Nicholas Catholic School designated today an e-Learning day.
According to Ripley County Health Department Administrator, Dr. David J. Welsh per the Indiana Communicable Disease Rule, an outbreak of varicella is defined as five or more cases if the cases are under 13 years old or three or more cases if the cases are 13 years old or older. The cases must reside in at least two separate households. In suspected outbreaks, lab confirmation of as many cases as possible is preferred but not required. This has not been declared an outbreak according to Dr. Welsh, but just the school being abundantly cautious.
Dr. Welsh stated that in this instance, there are no similarities found with age, classroom, or family for those that have been infected. And one child is already reportedly healed from the sickness.
Chickenpox spreads easily, mainly when a person touches or breathes in the virus particles that come from chickenpox. It can also spread through tiny droplets that get into the air when someone who has chickenpox breathes or talks, for example. Chickenpox can spread up to 2 days before the infected person gets a rash until all the blisters have formed scabs.
Chickenpox usually causes the following symptoms:
An itchy rash of blisters
Fever
Headache
Feeling tired
Symptoms usually last about a week. In some cases, chickenpox can cause serious problems. Chickenpox is usually mild in children, but the itching can be very uncomfortable. Children who get chickenpox can miss about a week of school or child care.
In some cases, chickenpox can cause serious problems, such as:
Skin infections
Dehydration (loss of body fluids)
Pneumonia (an infection in the lungs)
Encephalitis (swelling of the brain)
Complications from chickenpox can be serious and can occur in any person who develops chickenpox, although they are more common in healthy babies, adults, and people with weakened immune systems. About 9 out of 10 children who get 2 doses of the vaccine will be completely protected from chickenpox.
People with chickenpox must remain excluded from school, daycare, work or other public settings until all of the chickenpox lesions have crusted or if they do not have vesicular lesions until no new lesions appear in a 24-hour period.
Dr. Welsh stated that the Ripley County Health Department will continue to monitor this situation.
According to the Indiana State Board of Health records, only 87% of all kids 6-12 in Ripley and Decatur County had either a record of chickenpox or having received the vaccination. That is equal to the State total reported in 2017-2018. Franklin County reported 86% of kids.