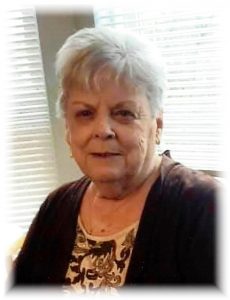 Jewel Roberta Yeager, age 79 of Morris, Indiana passed away on Sunday, January 26, 2020.
Daughter of the late Robert & Jewel (nee: Meyer) Fitzwater born in Cincinnati, Ohio on May 15, 1940. Married Terry Yeager of Morris on September 11, 1982.
She is survived by her daughters, Penny Hartman (Tim) of Milan, IN, Patricia Wood of Cleves, OH and son, Robert Burdette of Milan; grandchildren Taylor Meyers (Laura), Joshua Cole, Braden Burdette, Casey Burdette and Jenna Wood; and two great grandchildren, Joshua Cole Jr. and Ella Meyers; along with her sisters, Marcia Luckett (Tom), Barbara Jones (Rick), Remilda Peyton and Tammy Chinn; sister-in-laws, Carol Ryan (Darryl),  Louise Volk (Jerry) and Lauren Voegle; brother-in-law, Wally Yeager and a host of nieces and nephews.
In addition to her parents, she was preceded in death by her beloved husband, Terry Yeager and her brothers Dennis and Gordon Fitzwater.
Bert, as she was known to most of her friends and family, was always involved in her children's activities.  She was very involved with the Batesville VFW Post #3183 Ladies Auxiliary and the Batesville Eagles Aerie #1130. Bert was the State Treasurer of Indiana VFW Ladies Auxiliary for many years and served as treasurer for Batesville VFW Women's Auxiliary and the Batesville Eagles Auxiliary as well.  She retired from the accounting department at Batesville Casket Company after 30 years. Bert had many hobbies like crocheting, making crafts and trying out new recipes. Plus she enjoyed going gambling and was a big NASCAR fan.  She will be loved and remembered by all those who knew her.
Visitation, will be Thursday, January 30, 2020 from 3-6pm with funeral service at 6:00pm all at Meyers Funeral Home in Batesville.   A celebration of life will follow the services at the Batesville VFW that evening.
Internment on Friday, January 31st at Indiana Veterans Memorial Cemetery in Madison, Indiana.
All memorials may be made to the Veterans Family Support program c/o the funeral home.  Online condolences www.meyersfuneralhomes.com.