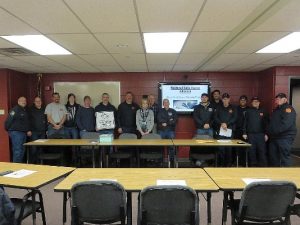 Batesville, IN—Batesville Fire and Rescue recently went through Basic Safe Haven Provider training with the National Safe Haven Alliance. Each year in the United States, too many babies are still abandoned. Despite safe haven legislation that provides parents a safe way to relinquish their infant, lack of public awareness has limited the laws' effects. The National Safe Haven Alliance works to promote these laws and increase awareness on both local and national levels.
The training will allow the Batesville Fire Station to serve as a safe alternative for a parent and newborn, preventing infant abandonment.
Safe Haven Alliance was in the national and local news just last week as the 3rd baby in less than 150 days was left in a Safe Haven Baby Box in Indiana in Seymour. To find a Safe Haven location or to learn more about the Alliance, click here.