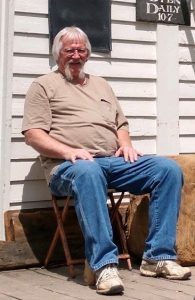 James Louis "Jim" Allen 73, of Aurora, passed away Monday January 20, 2020 in Lawrenceburg, Indiana.
Jim was born May 13, 1946 in Milan, IN, son of the late Herman Charles Allen and Ethel Marie (Hinman) Allen
He served his country as a member of the United States Army. Jim attained the rank of Sergeant, at the grade of E-5.
Jim worked as a laborer for Seagram's Distillery, retiring after over 36 years of service.
He was a member of American Legion in Batesville, and also of the National Rifle Association.
Jim enjoyed shooting with his sons at the shooting range. In his younger years, he enjoyed deer hunting. Jim was a fan of motorsports, and liked to watch Indy car, and NASCAR races. He loved to go to drag races in Indianapolis with his family. Jim also liked to ride 4-wheelers, and his Harley Davidson. Jim loved God. He also loved his harlequin/merle Great Dane, Smokey. Most of all, Jim loved his time with friends and family.
James is survived by his loving spouse of 42 years Martha Allen (Melton); sons, Lance (Jenni) Allen of Aurora, IN, Joshua (Kay) Allen of Dillsboro, IN; Brother, John (Sharon) Allen of Linton, IN; Three grandchildren, Justin Allen, Haiden Dishon, and Amelia Allen.
He was preceded in death by his parents, and a brother, Robin Allen.
Contributions may be made to the family. Please call the funeral home office at 812-926-1450 and we will notify the family of your donation with a card.
Visit: www.rullmans.c