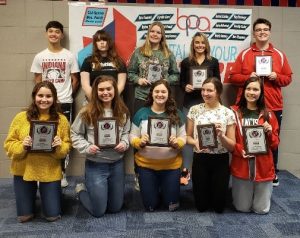 Aurora, IN—The South Dearborn High School Business Professionals of America students participated in the Regional Leadership Conference held at Ivy Tech Community College, Madison, Indiana on Saturday, December 7, 2019. These ten students competed in both team and individual business competitions and walked away winners.
In the individual events, the results were as follows, first place, Kyrstin Bond, Application Interview; first place, Cassidy Carter, Fundamental Word Processing; first place, Ben Chapman, Business Law; first place, Haley Rudisell, Fundamental Desktop Publishing, second place, Riley Bamberger, Prepared Speech; second place, Rylee Thies, Extemporaneous Speech; third place, Ben Chapman, Banking and Finance.
In the team events, South Dearborn High School had three teams advance to the state competition. The Economic Research Team including team members Andrew Estanislao, Cassidy Carter and Kristen Rumsey, received first place on their presentation regarding the pros and cons of implementing a Guaranteed Annual Income (GAI) for the citizens living in the United States of America. The Global Marketing Team, consisting of Riley Bamberger, Rileigh Powell and Haley Rudisell, placed second on their presentation and recommendations for the expansion of a fictitious eco-tourism company named Grand Adventures, currently located in Jackson Hole, Wyoming. The Small Business Management Team, members Maria Townsend and Rylee Thies, also advanced to the state by placing second in their event. Both Maria and Rylee had to prepare a presentation for a graphics company that described new policies that would expand their client list and increase sales through improvements made in the company's graphics equipment and staffing.
All of these students will advance to the Business Professionals of America State Leadership Conference (SLC), Indianapolis, Indiana on Sunday, March 8 through Tuesday, March 10, 2020. The BPA members will be accompanied by club sponsor Mrs. Kelly Pettit. Good luck to all of these young business professionals.