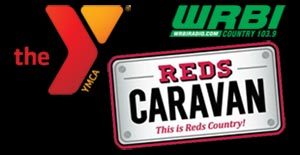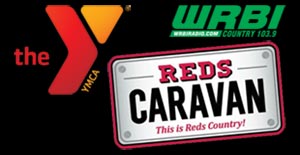 Batesville, IN—The Cincinnati Reds are heading out on their annual caravan this morning and will finish on Saturday. The tour will make 16 stops in Ohio, Indiana, Kentucky, West Virginia and Tennessee and travels more than 3,500 miles.
The Caravan lets fans interact with current and former players, top minor leaguers, broadcasters and members of the Reds front office staff. Groups will field questions and sign autographs while time allows. All Caravan fan stops are free and open to the public.
The Indiana leg of the tour includes pitcher Amir Garrett, left fielder/infielder Josh VanMeter, minor league infielder Jonathan India, Reds Hall of Famer Tom Browning, broadcasters Jim Day and Jeff Piecoro, and Vice President of Player Development Shawn Pender. They will stop in Munice, Evansville, and Indianapolis before stopping in Batesville to gather with southeastern Indiana fans.
The event brought to you by WRBI and Southeastern Indiana YMCA will be on Saturday, January 18 from 2-4 pm. Autographs will be available on a first-come, first-served basis while time allows. No posed photographs. There may be restrictions on items participants can sign.
Reds sales representatives will be at each stop to answer ticketing questions and discuss 2020 ticket plans. Memberships to the Reds Heads, Reds Rookies and Club Red fan clubs will be for sale at select stops.