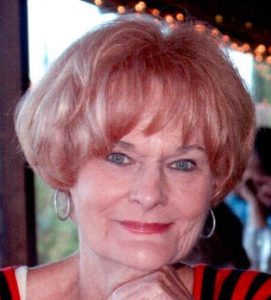 Scharline F. (Utter) Field passed away in Mesa, Arizona on Thursday, January 9, 2020. She was 84. She was born Monday, December 30, 1935 in Dillsboro, Indiana. She was raised in a loving family with both parents and her 9 brothers and sisters. She married William R. Field on November 19, 1955 and moved to Osgood, Indiana shortly thereafter. She moved to Mesa in 1971 with her husband and two children. Scharline loved her music and her church. She became very active in the Hi-Way Baptist Church choir after becoming a member in 1972. Scharline was a licensed cosmetologist and owned/operated a beauty salon in East Mesa for many years. She was also dedicated to the comfort, care and love for her dog Sally who will now live out her remaining years under the care of her daughter Lisa.
Scharline is survived by her daughter and son-in-law Drs. Lisa and Leland Sherlock; her son and daughter-in-law Robert and Bozena Field; two grandchildren Zachary and Hunter; one sister and two brothers. She is preceded in death by her husband, William; her daughter, Patricia Ann; parents Harley Boyce Utter and Louella Mae Utter (Heath) plus six brothers and sisters.
A funeral service will take place on January 17th, 11:00 am at Hi-Way Baptist Church, 10505 East Brown Road, Mesa, Arizona. Visitation in Indiana will be held from 5:00 – 7:00 pm on Thursday, January 23rd at Filter-DeVries-Moore Funeral Home.  Scharline will be laid to rest on Friday, January 24th with Graveside services beginning at 10:00 AM at Oakdale Cemetery.  In lieu of flowers, please consider donating to Old Friends Senior Dog Sanctuary in Mt. Juliet, Tennessee.  Filter-DeVries-Moore Funeral Home entrusted with arrangements, 12887 Lenover Street, Box 146, Dillsboro, Indiana 47018, (812)432-5480.  You may go to www.filterdevriesmoore.com to leave an online condolence message for the family.