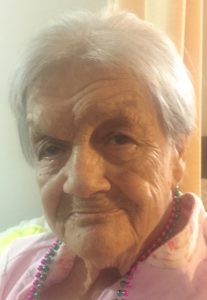 Anna Mae (Rigney) Hughes, 88, of Milan passed away Tuesday, January 14, 2020 at Ripley Crossing in Milan with family by her side.  Anna was born Saturday, October 24, 1931 in Liberty, Kentucky, the daughter of the late Sherman and Nellie (Mills) Rigney.  She married Otis R. Hughes and he preceded her in death in 1966. Anna remained on the farm and raised the children after his passing.  Anna worked as a CNA at the nursing home for 20 years and attended the Baptist Church.  She loved her garden and her farm.  When the grandchildren started to arrive she baby-sat for most of them.  She loved all her grandchildren.
Anna is survived by sons: Otis Hughes of Milan and John Hughes of Naples, Florida; daughter Anita Dyer of Moores Hill; 2 sisters: Glady Piercy and Mannell Martin; eight grandchildren; and 11 great grandchildren.  She was preceded in death by her parents, husband, and son Brian "Chris" Hughes.
Services at the convenience of the family.  You may contact Jennifer Roedl at (513) 550-0263 for more information.  Memorials may be given in honor of Anna to Ripley County EMS in Milan or the Milan Fire Department.  Laws-Carr-Moore Funeral Home entrusted with arrangements, Box 243, Milan, IN 47031, (812)654-2141.  You may go to www.lawscarrmoore.com to leave an online condolence message for the family.