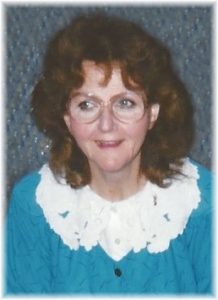 Leadia "Pat" Lorraine McCluskey, age 78 of Indianapolis, Indiana, passed away on Monday, January 13, 2020 at St. Francis Hospital.  The daughter of John and Edith (Moody) Warram was born on March 29, 1941 in Versailles, Indiana.
Pat worked as a hair dresser for many years. She will be dearly missed by her friends and family.
She is survived by her children Richard (Belinda) Hager, Alan (Melody) Hager and Stephanie (the late Tony) England; six grand children and one great grandchild; along with one step brother, three step sisters and her adopted sister, Mable Owens.
In addition to her parents, she was preceded in death by her husbands, Francis Hager and Jerry McCluskey, sister, Denise Warram and one grandchild.
There will be a Celebration of Life on Saturday, January 18, 2020 from 4-6pm at the Faith Assembly of God, 186 Royal Rd., Beechgrove, IN 46107.
Meyers Funeral Home is assisting the family.  Online condolences www.meyersfuneralhomes.com.