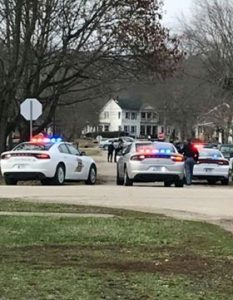 Laurel, IN—Yesterday, a Laurel man was arrested on numerous charges following a nearly six hour standoff with law enforcement in Franklin County.
The incident began at approximately 11:30 am when troopers with the Indiana State Police-Versailles Post All Crimes Policing Team went to 139 Commerce Drive in Laurel, Indiana to serve arrest warrants on Jonathan C. Bingham, age 34, who lived at the residence. Bingham was wanted on a parole warrant as well as an additional warrant out of Ripley County.
When the troopers arrived on scene, Bingham attempted to flee out the back door of the residence. Upon exiting the house, he saw a trooper and ran back inside. Bingham stayed inside the residence for nearly six hours and refused to surrender. He told the troopers at the scene that he was going to shoot them.
The Indiana State Police SWAT Team and negotiators responded to assist. At approximately 5:30 pm, Bingham exited the residence and surrendered. During a search of the residence, troopers located suspected methamphetamine, syringes, and drug paraphernalia. He was arrested on the warrants along with additional charges of Resisting Law Enforcement, Intimidation, Possession of Methamphetamine, Possession of Syringes, and Possession of Drug Paraphernalia.
He was transported to Margaret Mary Hospital in Batesville, Indiana for evaluation before being incarcerated in the Ripley County Jail. Bingham will also be facing the new charges in Franklin County.
The investigation is ongoing.