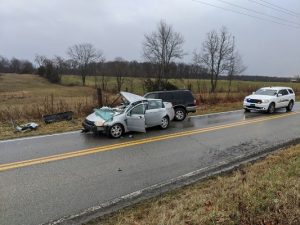 Rising Sun, IN—Late Friday morning the Ohio County Sheriff's Office was called to an auto collision with injuries on Cass Union Road. Upon arrival deputies observed two vehicles were involved in the collision.
It was determined that a 2008 Ford Focus was driven by Mary Green, 55, of Carrollton, Kentucky was traveling southbound on Cass Union Road. While driving through the curve her vehicle began to slide due to wet road conditions. Her vehicle then collided head-on with a 1999 Toyota Four Runner driven by Jeffrey Hogan 43, of Vevay, Indiana.
Green and her passenger were entrapped in the vehicle and had to be extricated by firefighters. Both Green and Schenbelt were flown by medical helicopter to University of Cincinnati Hospital. A child that was in the car with Green was transported to High Point Health with minor injuries. According to deputies, Hogan was released from the scene with no reported injuries.