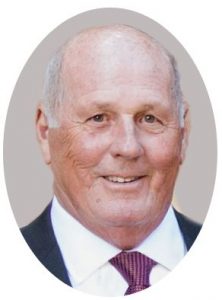 Born to Paul and Loretta Werner (née Schumacher) in Batesville, Indiana on September 28, 1948, Thomas Carl Werner was the seventh of nine children. He attended St. Louis School and Batesville High School and spent time "souping-up" his '55 Chevy with his friends and working at the gas station.  Following in the footsteps of his brothers, he joined the military and served on search and rescue missions with the Coast Guard in Hawaii.  Tom attended the University of Hawaii and graduated with a degree in business.  He worked his way through college as a taxi driver, which was evident in his driving style throughout his life.
Tom began his career in accounting and finance at Coopers & Lybrand in Indianapolis, where he met his wife of 40 years, Janice Brames.  He served as president for Crime Control, Inc. in the 1980's, and was proud of his work rebuilding value for its stakeholders by orchestrating the financial turnaround and successful sale of the company.  Until his recent retirement, he was a District Director for the Alcohol and Tobacco Tax and Trade Bureau.  In this role he enjoyed traveling around the country visiting breweries and wineries.
His greatest joy came from being at "The Farm" outside of Batesville, and sharing the beauty of nature with his wife, daughter Katie, and her husband Zach Grajewski.  Here, Tom spent his time gardening, reforesting the property, and creating a haven for wildlife.  He planted over 10,000 trees, and harvested countless gallons of blueberries, bushels of apples, buckets of corn and more, much of which was shared with neighbors and friends. He spent many Sunday afternoons fishing with his daughter and going on excursions around the lake with his wife.  Rarely was he seen without his best buddy, Jake the beagle, at his side.
Tom enjoyed supporting fellow veterans as an active member of the Prell-Bland American Legion Post #271 and served on the Honor Guard for many military funerals.  He and his seven brothers were proud veterans; in 2005, this band of brothers was honored at Batesville's Memorial Day Ceremony, reminiscent of when they marched together in the 1967 Memorial Day Parade.
After a quick and challenging illness, Tom passed away on January 10, 2020 at the age of 71.  He is survived by his wife, daughter, and son-in-law; sister, Mary Rennekamp of St. Leon, Indiana; and brothers, Paul (Joyce) Werner of Maineville, Ohio; Gerry (Michele) Werner of Batesville, Indiana; Keith (Patty) Werner of New Market, Maryland; and Doug (Carolyn) Werner of Miamisburg, Ohio.  He is preceded in death by his parents and brothers, Ron, Bob, and Bill Werner.
A visitation will be held on Friday, January 17, 2020, from 4-7 P.M., preceded by a rosary and prayers at 3:30, at the Weigel Funeral Home.  A Funeral Mass will be offered at St. Louis Catholic Church on Saturday, January 18, 2020, at 10:30 A.M., followed by burial in the church cemetery.   In lieu of flowers, memorial contributions may be made towards mass offerings or to Prell-Bland American Legion Post #271; or, fittingly, plant a tree in memory of Tom.