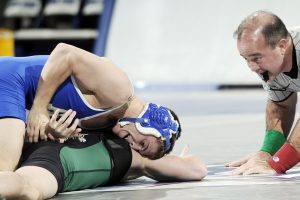 Batesville High School completed their best weekend of wrestling so far when traveling to Centerville to compete in 9 duals over a two day period. The Bulldogs were able to finish the weekend going 5-4 with two weight class champions and 8 out of 12 wrestlers finishing with winning records on the weekend.
The Bulldogs were led by two weight-class champions on the weekend with Alex Murphy winning the 113 weight class while Jy'lil Chappel won the 182 weight class.
Murphy went 9-0 with 2 pins and winning his last match by avenging a loss from earlier in the season in his final match of the weekend. Chappel went 8-1 with 6 pins avenging 3 prior losses including his final match. JT Linkel at 145 and Josh Mobley at 152 made strong runs in their weight classes both going 8-1. Linkel won 7 matches by pin but dropped his final match to a Returning State Qualifier from Centerville. With Linkel's 8th win of the weekend he moves up to 100 career pins. Mobley won 5 matches by pin but lost his final match to a 3 time semi-state qualifier from Centerville in double over-time. Other Bulldogs with winning records on the weekend were Christian Garcia at 195 with a 6-3 record with 2 pins and 1 major decision, Caleb Bischoff-Niese at 120 with a 5-4 record with 2 pins, Axel Garcia at 170 with a 5-4 record with 1 pin and 1 tech fall, and Tyler Schaeffer at 132 with a 4-1 with 4 pins. Also with wins on the weekend were Jonathan Lamping at 126 with 2 with 1 by pin, Nick Nobbe at 160 with 2 and 1 by pin, and Jonath Schrank and Brandon Manning each got a win.
As a team, the Bulldogs were able to get 5 wins. They avenged two earlier losses by beating Union County and Lincoln. They also picked up victories against Winchester, Northeastern, and Tri. The Bulldogs will next travel to Greensburg Tuesday for a dual and to South Dearborn Saturday for the EIAC tournament.
Team results
New Castle 39 Batesville 33
Batesville 48 Union County 36
Batesville 42 Winchester 30
Batesville 57- Northeastern 17
Batesville 51 Tri 18
Batesville 41 Lincoln 36
Franklin County 55 Batesville 24
Monroe Central 45 Batesville 36
Centerville 58 Batesville 13
Courtesy of Bulldogs Coach Curtis Miller.