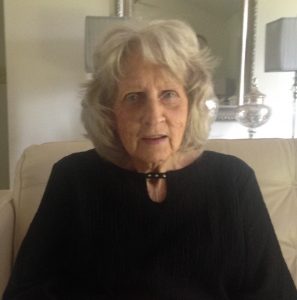 Doris L. (Lovett) House, 86, of Lawrenceburg, Indiana, passed away Sunday January 12, 2020 in Milan, IN.
She was born April 11, 1933 in Co-Operative, KY, daughter of the late Hobart Lovett and Evelyn (Ryan) Lovett
Doris was a longtime member of the First Baptist Church Aurora. She was a faithful member and served as a Sunday School teacher for the 2-5 yr. olds, for over 40 years. She loved working with children and left a lasting impression on the many children throughout the years. In early years, she belonged to the Fidelis Class at church. Doris's faith was important to her and she lived her life honoring her beliefs. Doris enjoyed working outdoors. She kept her lawn impeccable. She also loved to cook and was well known for her famous Angel Food cake, deviled eggs, coffee cake and macaroni and cheese casserole (among many others). She enjoyed watching her hummingbirds and car rides, She enjoyed socializing, with family and friends. Her time spent with her family was most precious, especially the grandchildren. She will be missed by her loving family, church family, and many friends.
Doris is survived by her loving children, Denise (Jim) Corey of Lawrenceburg, IN, Terry (Victoria) House of Guilford, IN, and Dan (Lynn) House of Aurora, IN; grandchildren, Jason Corey, Chris (Kelly) Ballentine, Jayme Ballentine, Ashley Tatro, Dewayne Kaaz, Jessi Alexander, Jezarray (Joey) Witte, Demi House, Kaiya House, Dylan House, Ashley Palm, and Zack Fallett; and16 great grandchildren.
She was preceded in death by Father, Hobart Lovett, Mother, Evelyn (Ryan) Lovett, her loving husband of 40 years, Delmar "Denny" House, Son, Dennis House, siblings, Hobart Lovett Jr., Yvonne Johnson, and Phyllis Dameron.
Friends will be received Thursday, January 16, 2020, 5:00 pm – 8:00 pm at the First Baptist Church of Aurora, 6060 Blair Road, Aurora, Indiana.
Services will be held at the Church, Friday, at 11:00 am. Interment will follow in the River View Cemetery, Aurora, IN.
Contributions may be made to St Jude Children's Hospital, The Red Cross, or First Baptist Church.. If unable to attend services, please call the funeral home office at (812) 926-1450 and we will notify the family of your donation with a card.
Visit: www.rullmans.com