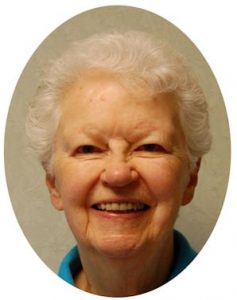 Sr. Helen Eckrich, formerly Sr. Augustine, age 90 of the Sisters of St. Francis in Oldenburg, Indiana, died Monday, January 6, 2020 at the convent.  Born Helen Marie on August 28, 1929 in Wilmington, Delaware, she is the daughter of Margaret (Nee: Farren) and Matthew Eckrich.
She began her education in Delaware before her family moved to Indianapolis in 1944 where she graduated from St. Mary High School, and later Marian University.  It was at Marian that Sr. Mary Carol Schroeder helped Helen realize her religious vocation and she entered the Oldenburg Franciscans in 1951, making her final vows in 1957.
Through the years Sr. Helen earned a B.A. in History from Marian University, a M.A. in French from the College of St. Rose in Albany, New York; and a Ph.D. in French from Fordham University in Bronx, New York. She taught at St. Anthony School in Dayton, Ohio and Scecina High School in Indianapolis, before she taught French and was appointed Campus Minister at Marian University in 1962.
In 1979 Sr. Helen was granted a dispensation from her vows and began working at the Marion County Health Department as Manager of Chronic Disease.  She re-entered the Franciscan Community in 1991 and served as President of Oldenburg Academy, and later as Director of Human Resources for the Franciscan community before retiring in 2000.
Sr. Marilynn Hofer shared, "When Sr. Helen was at Marian, she enjoyed the students and faculty and was well liked by all."  Sr. Norma Rocklage added, "She loved Liberal Arts and did much to strengthen the program at Marian.  She assisted me with the FAA program I developed for airport workers who needed liberal arts classes to earn their degrees and she assisted with the Bootstrap program for military officers.  She attended most of the University's sporting events and was loved by students due to her dedicated listening skills."
Sr. Helen entered her eternal life on the Feast of the Epiphany, which is also the 169th anniversary of the founding of the Oldenburg Franciscan.  Visitation will be Friday, January 10 from 1:00-3:00 p.m. in the convent chapel. Funeral services will follow at 3:00 p.m. with Rev. Robert Weakley, O.F.M. officiating with burial in the convent cemetery. Memorials may be made to the Sisters of St. Francis, P.O. Box 100, Oldenburg, Indiana, 47036 (www.OldenburgFranciscans.org).  For online condolences go to www.weigelfh.com.