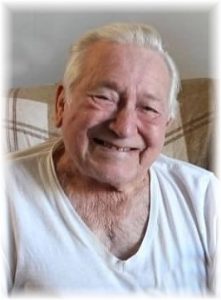 Charles Dale Bohner, of Batesville, formerly of Brookville, Indiana, passed away on Thursday, January 2, 2020.  He was 88 years old.   The son of Everett and Leona (nee: Draut) Bohner was born on August 4, 1931 in Milan, IN.
Dale, as everyone knew him by his middle name, married Betty Howell in October 1950.  They were married for almost 65 years before she passed away in September 2015. The 1949 Osgood High School graduate started out washing trucks and worked to become a trained diesel mechanic.  He was a member of the Holton Christian Church.
Dale loved to experience the outdoors camping and traveling.  He enjoyed going out dancing.  His family refereed to him as a 'world class fixer' as he could take care of anything that needed 'fixed'. Most of all Dale loved being with his grandchildren, great grandchildren and his entire family.  He will be dearly missed by them all.
He is survived by his children Terry Reynolds of Spencer, IN and Connie Reed of Batesville; his very close friend, Char Bultman of Osgood; his grandchildren, Caelum, Cati, Carrie and Faith along with his great grandchildren, Matthew, Lucas, Owen, Auden, James and Nell; and his sister, Anna Mae Asche of Slidell, LA.
In addition to his parents and his wife, he was preceded in death by his sister Bertha Fields.
Visitation will be Tuesday, January 7, 2020 from 4:00-6:00pm with 6:00pm funeral service immediately following all at Meyers Funeral Home in Batesville.  Cremation will follow services.
Memorials may be given to the Holton Christian Church. Online condolences www.meyersfuneralhomes.com.