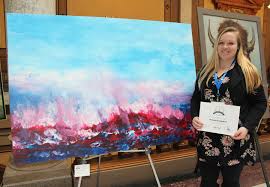 Statewide—Lt. Governor Suzanne Crouch, along with Treasurer Kelly Mitchell and the Indiana Arts Commission announced details for the 2020 Hoosier Women Artists contest.
"This is one of the highlights of my job, and one that I look forward to every year," said Crouch. "Each artist has their own unique story and they always find a beautiful way to express themselves. I cannot wait to see the artwork this year and meet the incredible and talented women behind the pieces."
Since 2008, the Hoosier Women Artists program has celebrated and further expanded the important role art plays in our communities by showcasing the work of talented women artists throughout the state.
The theme of the 2020 Hoosier Women Artists competition will be a celebration of women and commemoration of the women's suffrage centennial anniversary. Artists are encouraged to submit pieces related to this theme, expressed in the artists' own interpretation. Mitchell said winners of the Hoosier Women Artists contest will have their artwork displayed in her office and the Lt. Governor's office at the statehouse for one year to be enjoyed by the thousands of school groups, visitors and staff who explore the building annually.
Additionally, pieces of art will also be selected by First Lady Janet Holcomb, Secretary of State Connie Lawson, Auditor Tera Klutz, Chief Justice Loretta Rush and Superintendent of Public Instruction Jennifer McCormick to display in their respective offices and the Governor's residence.
Submissions may be made on the Indiana Art Commission's Onine Application System from today through January 31, 2020. Applicants will need to create a username and password and select Hoosier Women Artists as the program name.
Requirements include:
Framed wall art only;
Maximum dimensions (including frame): 42" x 60";
Maximum weight: 60 lbs.;
Must be installation-ready, including frame and hanging wires; and
Submit one entry per artist to be considered.
A reception will be held on March 4, 2020, at the Indiana Statehouse to honor the selected artists.