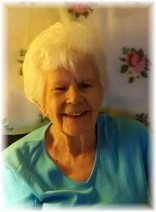 Margaret Perry, age 86 of Batesville, Indiana passed away on Tuesday, December 31, 2019. The daughter of Sidney and Sally (Murphy) Powell was born on April 27, 1933 in Berea, Kentucky.
Margaret married Frederick Perry Sr. on November 25, 1969. Margaret worked for many years at Batesville Casket Company before retiring in 1994 to help raise her three grandsons.
Margaret loved the Lord and never missed going to church.  She was a member of the Berean Baptist Church in Batesville and served as a Sunday school teacher there. Singing with the Powell Family Singers was something she truly enjoyed whether performing at church or other events. Of course, Margaret was also known for her baking, especially her wonderful pies. She liked tending to her gardens and many lovely flowers. Outside she always kept the bird feeders full to feed her feathered friends. She loved spending time watching all the birds. She will be truly missed by her loving family and friends.
She is survived by her grandchildren, Joshua (Molly) Gibson of Batesville, Nathan (Sarah) Gibson of Sunman, and Christopher (Rachel) Gibson of Batesville; great grandchildren, Izabelle, Mackenzie, Montgomery, Aubrey, Noah, Delaney and Naomi; step-children, Frederick Perry Jr., Paula Harrell, Peggy Neal and Carol Fee; along with her sister, Helen Yorn and brothers, Carter Powell, Joe Powell, Sidney Powell Jr., Ernie Powell, James Powell and Elmer Powell.
In addition to her parents she was preceded in death by her husband, Frederick, daughter Linda Gibson, step-son Phil Perry, great grand-daughter Lorelai, sister Violet Reynolds and brother Shelton Powell.
Visitation, Saturday, January 4, 2020 from 11:00am – 1:00pm with a 1:00pm funeral service immediately following, all at Meyers Funeral Home in Batesville.  Rev. Steve Hasselbuch officiating.  Burial in the Methodist Cemetery in Batesville.
Memorials may be given to the Berean Baptist Church c/o the funeral home.  Online condolences www.meyersfuneralhomes.com.