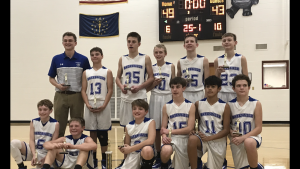 The Batesville Seventh Grade Boys Basketball team won the 7th Annual St. Louis/Batesville Crosstown Classic Invitational Tournament on December 27th. The tournament featured teams from Franklin County, Connersville, Jennings County, South Ripley, Batesville, and St. Louis.
The Bulldogs beat Franklin County in the first game of pool play by a score of 41-21 and were led in scoring by Jacob Stenger with 13. In the second pool play game, Batesville defeated Jennings County by a score of 49-38 with top scorer Cade Kaiser notching 14. In the championship game, Batesville faced off against South Ripley and emerged with the tournament win 49-43 with Cade Kaiser scoring 25.
The team is coached by Garrett Burkhart and now holds a 14-1 record.
Courtesy of Mark Stenger.