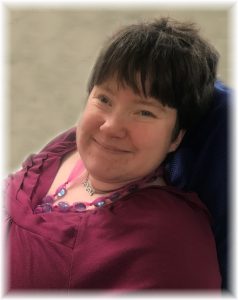 Natasha Rene Rowland, age 35, of Batesville, passed away on Sunday, December 29, 2019 at the Waters of Batesville. The daughter of Steve Rowland was born on September 9, 1984.
Natasha was a special girl with a very bold personality.  Many knew her favorite color was purple.  She loved her country music especially legendary singer, Blake Shelton and was proud of the cardboard cutout of him in her room.  Natasha attended Batesville High School and worked at New Horizons for a time.  To know Natasha was to love her. She will be dearly missed by her family and friends.
She is survived by her father Steve Rowland (Kim Donley) of Batesville; her brothers Daniel (Kim) Rowland of Osgood, IN, Justin (Marie) Rowland of Franklin, IN, Dustin (Kristin) Rowland of Batesville, and Chris (Brianna) Ramey; sister Stephanie Rowland plus 11 nieces and nephews.
Visitation will be Friday, January 3, 2020 from 12:00 – 2:00pm with a 2:00pm funeral service immediately following all at Meyers Funeral Home in Batesville. Burial to follow in the Rossburg Cemetery in New Point, IN with Rev. John Ramsey officiating.
Memorials may be given to New Horizons Rehabilitation Inc. c/o the funeral home.  Online condolences www.meyersfuneralhomes.com.