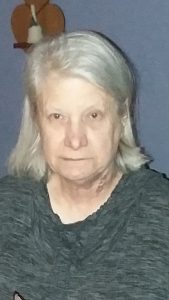 Debra Sue Davis, age 66 of New Point, Indiana passed away on Tuesday, December 17, 2019 at the Heritage House in Greensburg.   The daughter of Forrest Jr. and Evelyn (nee: Herbert) Roszell was born in Greensburg on November 20, 1953.
Debra enjoyed listening to music, especially the 60s and 70s.  She was a dear wife, mother and grandmother who will be truly missed.
She is survived by her husband, Larry Davis; three sons, Christopher (Glenda) Robertson, Chad Robertson and Aaron Davis; three granddaughters, Haley, Persephone and Imoen; along with her brother, Ronnie Roszell and sister, Diane Roszell.
Visitation services will be Friday, December 20, 2019 from 2-4pm at the Meyers Funeral Home in Batesville.
Memorials may be made to the funeral home to assist the family with funeral expenses.