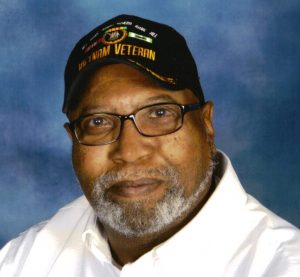 Sterling L. Teasley, Sr., 71, peacefully passed away from a progressive lung disease on Wednesday, December 11, 2019 at his home in Greensburg with his wife by his side.
Born, November 22, 1948 in Pineville, LA, he was the son of Jack Teasley, Sr. and Vernice (Orange) Teasley.
Sterling graduated from Bauder College in Atlanta, Georgia.  He was a Vietnam Veteran, serving in the Army from 1969 – 1970.  He worked as a draftsman and a computer analyst for CLECO in Louisiana from 1979 until he retired in 2004.  Sterling was a member of the New Point Christian Church.  Sterling loved hunting, fishing, computers, and was very proud of his children, stepchildren, and grandchildren.
Sterling married Sue A. (Gardner) Pigmon on September 23, 2006 and she survives.
Other survivors include; one son; Sterling L. Teasley, Jr, Pineville, LA, two daughters; Artrinique Davion, Alexandria, LA, Vernice M. Teasley, Baton Rouge, LA, one brother; Jack N. (Betty) Teasley, Jr., Pineville, LA, two step-sons; Art (Beth) Pigmon, Westport, Scott (Kim) Pigmon, Westport, and 4 grandchildren.
He was preceded in death by his parents.
A Celebration of Life will take place at 2 pm on Saturday, December 14, 2019 at the New Point Christian Church with Rev. Mark Vice officiating.
Memorial contributions can be made to the American Lung Association or the American Legion Post 129.
Online condolences can be made at www.popfuneralhome.com