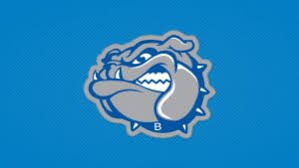 Batesville's 7th-Grade Basketball team defeated visiting Columbus Northside by a score of 41-31. The Bulldogs got off to a hot start leading 26-13 at half and ultimates closed the game by going 7 for 8 from the line in the last few minutes. Leading the charge offensively was Jake Chapman with 9 points, followed by Cade Kaiser (8), Jacob Stenger (8), Grant Goldsmith (5), Carson Laker (4), Will Jaisle (3), and Gage Pohlman (3). 7th grade moves to 8-1 on the season.
Batesville's 8th Graders fell to Columbus Northside 37-25. The game was back and forth all night but too many turnovers and missed opportunities ultimately lead to defeat. The Bulldogs were led offensively by Jack Grunkemeyer with 12 points, followed by Conner Drake (5), Sam Johnson (4), Gus Prickel (2), and Carter Bohman (2). 8th grade moves to 6-3 on the season.
Courtesy of Bulldogs Coach Ty Burcham.