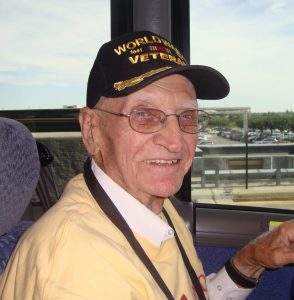 Price D. Thomas, age 99, of Sunman, was born on January 19, 1920 in Rose Hill, Virginia, a son to Milton and Laura Hargrave Thomas.  He was a WWII veteran, having served his country in the United States Military under General George S. Patton's Third Army.  Price married Lila Mae Jerrell on November 9, 1945 and she preceded him in death on July 16, 2014.  He was a member of the Sunman American Legion Kenneth L. Diver Post #337, the Milan VFW Post #6234, and the Sunman Fish and Game Club.  Price enjoyed bingo, fishing, gardening and especially loved family story telling.  On December 9, 2019, Price passed away at Decatur County Memorial Hospital.
Price is survived by his children, Darrell Thomas of Greensburg, Danny (Heather) Thomas of Milan, Garry Thomas of Sunman and Dennis (May) Thomas of Sunman; grandchildren, Jim Thomas, Nikki Webster, Angie Wilson, Jody Holt, Justin Thomas, Shannon Chadwell, Dustin Thomas, Sophia Thomas, Dylan Thomas, and Seth Thomas; eleven great-grandchildren; one great, great-grandchild, and several nieces and nephews.  Besides his parents and wife, he was preceded in death by son, Larry Thomas, infant son, Raymond and daughters-in-law, Sue (Morton) Thomas and Brenda (Johnson) Thomas.
Friends may visit with the family on Sunday, December 15, 2019 from 11a.m. until 1p.m. at Cook Rosenberger Funeral Home, 107 Vine Street, Sunman.  Charlie Combs will officiate the service at 1p.m. and burial will follow in St. Paul Cemetery with military honors provided by the Sunman American Legion Kenneth L. Diver Post #337.
Memorial contributions can be directed to Sunman American Legion Kenneth L. Diver Post #337.  To sign the online guestbook or to leave personal memories please visit www.cookrosenberger.com.  The staff of Cook Rosenberger Funeral Home is honored to once again care for the Thomas family.