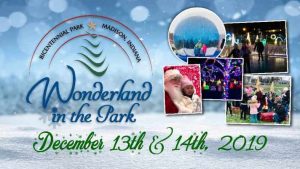 Madison, IN—Visit Madison, Inc. is gearing up for the second year of "Wonderland in the Park" this weekend, Friday and Saturday, December 13th & 14th, 4:00 p.m. to 8:00 p.m. each night. Residents and visitors to Madison can enjoy two nights of festive fun at Bicentennial Park and the riverfront. Returning this year will be many activities and rides, treats, and of course Santa.
Also, new this year, the Wonderland in the Park team has initiated the start of transforming Vaughn Drive (Madison's riverfront) into "Wonderland Drive" to coincide with the event. It's been many years since the riverfront was lite up for the duration of the holidays. Lights started to appear nightly on Thanksgiving weekend, but will be even more magical starting Wonderland in the Park weekend and through December 31st, 2019. Nearly 10,000 lights were added along Wonderland Drive, and over a dozen new large light features running from Mill Street to West Street.
Wonderland Drive isn't the only thing that will be enhanced, the Wonderland in the Park event added another 15,000 lights over last year's 10,000 lights. Add it all up, that's over 35,000 lights added to Madison's riverfront and Bicentennial Park–something everyone can get excited about!
Click here for events and happenings throughout the year. Don't forget to tag us while you are here and enjoying all the festivities, use #VisitMadisonIN hashtag to share your fun.