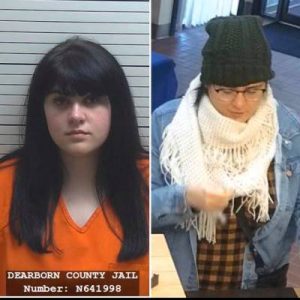 Lawrenceburg, IN—Tuesday, Dearborn County Prosecutor Lynn Deddens filed a single count of robbery on Samantha Wyatt,26, of Trenton, Ohio. These charges stem from the bank robbery that occurred at the US Bank, Dillsboro on Monday, November 25th, 2019.
The charges were brought after a detailed and thorough investigation. When the alleged robbery took place, the identity of the suspect was unknown. A press release from local law enforcement was done seeking the public's help in ascertaining the identity of the suspect. On Thanksgiving Day, an anonymous call was made to Dearborn County Dispatch advising that the person who may have robbed the US Bank was Samantha Wyatt. Detectives from the Dearborn County Sheriff's Department and the Special Crimes Unit began looking into this tip. It was learned that many of the same physical features that were visible from security footage from US Bank matched Wyatt. Detectives also learned that Wyatt has family that lives in Ripley County, approximately 16 minutes from the Dillsboro US Bank.
​After further investigation, detectives were able to develop enough additional information to establish Wyatt as the primary suspect in the case. Prosecutor Deddens was grateful for the detailed work of so many law enforcement agencies, the Dillsboro Police Department, Dearborn County Sheriff's Department, Dearborn and Ohio County Special Crimes, Indiana State Police as well as Butler County, Ohio in apprehending Wyatt.​