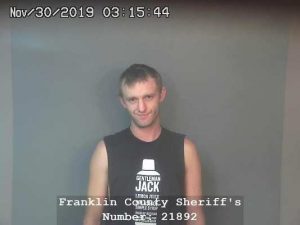 Brookville, IN— According to the Brookville Police Department, early November 30, officers were dispatched to a complaint of being threatened involving a firearm in an alley near Main Street and Progress Street.
Officers were notified the suspect with a firearm was wearing dark-colored clothing, with a hooded sweatshirt and was riding a bike. Upon arrival, the officers located an individual matching the description provided by dispatch, Dustin Alan Buckhave, of Brookville.
During the course of their investigation, officers allegedly located a white crystalline substance believed to be methamphetamine and pills identified to be controlled substances, on Buckhave. He was immediately placed under arrest. A firearm was not located on Buckhave or in the immediate area.
Buckhave was charged with allegations of Possession of Methamphetamine and Possession of a Controlled Substance.
-0-